These days everyone has some kind of screen in front of them all the time. Whether it be for work, school, or just for fun. I think we could all agree that one less screen would not kill us. Besides, having one less distraction to our daily lives would be great?
I know, I for one would like that and not having to charge my smartwatch every other day. It sounds as if you would have to leave the fitness monitoring devices alone in order to have both.
If any of these thoughts have ever crossed your mind, then you will be thrilled to know that Amazon has given us just that! A way to have one less screen to distract us, less downtime due to charging but with all the tracking for our health.
With the time saved because of our busy lives, we can take time to relax. It is about time that we put a device on and semi forget about it!
Amazon is always adding new products to improve the lives of each individual. This one is no different!
Introducing Amazon Halo Band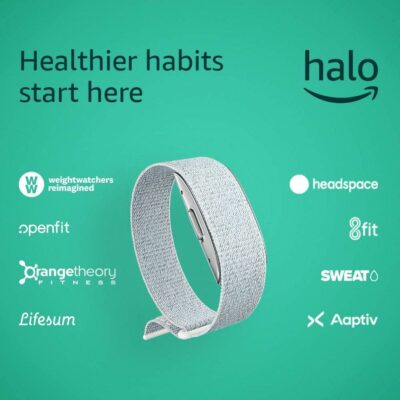 Product details:
It would be safe to assume that this new Halo Band will not leave us asking "Why?" Only saying, "It is about time!!"
With the Halo Band, the activity that is tracked automatically are:
Sleeping
Voice Composition
Physical activity
Saving you time in your workouts so you can move smoothly from one workout to another.
Yes, I know what you are thinking. How can I see the data that the Halo Band has been collecting? Well, have no fear, your is phone near!
There is an app that will be available to download that will allow you to keep up with your overall health. Not only will you be able to track your sleep, activity, and your voice composition.
The app allows you to take a 3D scan of your body to show what you could look like after losing it. This is a great motivator; if you will? Tracking for the fat personage from each body scan is a must.
Now you may have another question on what about my privacy? What happens to the images I took for the body composition? To ease your mind, the system deletes them as soon as it analyzes them.
The app also allows you to view how you sound to others by using a Tone that inspects the way you communicate with others and how to improve it.
The app comes with a free 6 months membership giving you access to all feathers that proved you with the tools to track your progress to reach your personalized goals. (From my reading this is only for early access.)
Amazon Halo Band is working hand in hand with Headspace, SWEAT, and Lifesum to complete evaluations of data that each individual produces. Breakaway from the norm, with Halo changing the way we think and understand health and fitness.
Pros:
Long-lasting battery
Free 6 month membership
Matching bands
Waterproof
Cons:
No clock
Membership
Not everyone will be able to use body composition
Final Thoughts
Looking at the Halo at first glance my thoughts were "Really? Wheres the face?" after reading and looking over the feathers of this amazing accessory. I started to understand what it does and what makes the Halo band such a great health accessory. Do you think that you will buy this new health tech?